Best Accommodations in Puerto Vallarta Mexico
A wide variety going from all inclusive Resorts, Boutique Hotels, Beachfront location, Gay FriendlyAccommodations, and rates from luxurious to cheap. In the best and most popular locations, here you will find the best lodging, best qualified, and favorites of visitors who frequently visit us.
Marival Residences Luxury Beach Resort

Situated on the seafront, this luxury resort includes an outdoor swimming pool, spa and private beach.It offers elegant residences and villas with garden, pool or sea views. This complex that together with the great activities that can be developed there such as sports activities on the water such as kayaks, as well as bicycle rides, tower climbing, mini golf, and a lot of activities and amenities that can be developed in this mega resort, which together with its 495 rooms ranging from the standard of a room to a suite of 3 bedrooms, combines the best of the beach in this tourist destination, with its all-inclusive service and fun who can provide their activities in the water.

Hard Rock Hotel Vallarta All Inclusive

This accommodation option in Puerto Vallarta is the guarantee of a pleasant stay backed by the Hard Rock brand, which can be found in the best destinations in the country such as Los Cabos, Puerto Vallarta and Cancun. that this all-inclusive concept will be one of the favorites in this tourist destination, with its gardens and pools, as well as its elegant restaurants offering a large number of dishes and many other amenities that can be found in this luxurious property by the sea.

Grand Velas Riviera Nayarit

This all-inclusive resort in Nuevo Vallarta and AAA Five Diamond Award winner located right on the beach overlooking Banderas Bay, offers luxurious suites as well as first-rate services and facilities, just 15 minutes' drive from Puerta Vallarta. This luxurious resort located in Nuevo Vallarta offers spacious rooms with pleasant balconies and sea views accompanied by luxurious touches that will make your vacation a much more pleasant experience. its infinite pools with several levels can enjoy beautiful views of the beach as well as allowing yourself to pamper yourself with its spa service and its internationally renowned restaurants, make this place a sophisticated and luxurious option in a serene and quiet location of Puerto Vallarta in conjunction with its 267 luxurious rooms.

Now Amber Resort & SPA

Overlooking the Pacific Ocean, Now Amber Resort and Spa features an outdoor swimming pool and private access to the beach. It offers luxurious all-inclusive accommodation and includes on-site water facilities.

Dreams Villamagna

A Resort with touches of decoration and very modern architecture, accompanied by its restaurants where highlights an outstanding sushi bar on the roof of the Resort, in addition to its multiple pools and gardens that enliven this accommodation. the rooms decorated and furnished with modern furniture, as well as jacuzzi in private terraces with beautiful views towards the ocean or the mountain.

Villa premiere Boutique Hotel & Romantic Getaway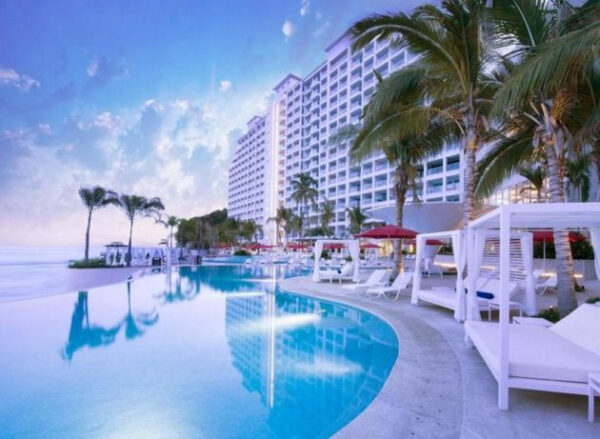 Great Hotel Locations
The truth is that there is a lot to choose from Top Accommmodations in Puerto Vallarta and it would not be fair to accommodate only a few on a list, so we suggest you see beyond the ones we have here listed and you will surely find many more and different ones to your liking.
Here we will be a few that due to their special characteristics are nice for a visit, but now it depends on the taste of each one.
Many Vacation Rentals are available in Puerto Vallarta, Nuevo Vallarta, Punta de Mita, Sayulita Basically in any spot you desire, find Villas, Houses, Condos and more..
Here we try to be and Honest Travel site with lot of information at the reach of a click or tap in your tablet or cellphone.
Deals are around the corner everytime, so don´t mind to check any offer that match your eye.
Incredible as it sounds, All inclusive Hotels and Resorts, are relatively new in the area.
Originally was conceived as a Luxury resort destination as long with the Maya Riviera, Puerto Vallarta in the Banderas Bay, Riviera Nayarit and many other luxury destinations that are located in Mexico.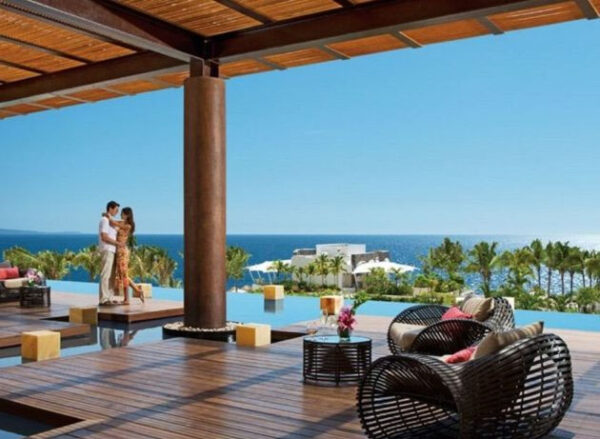 Resorts in Puerto Vallarta
Great developments to Accommodate where to find all the amenities in one place, from bars and restaurants, as well as spa, gyms and many other amenities that make these favorite places such as nice pools and areas for activities or games .
Many of these have great activities to keep their guests entertained, such as themed nights, unique culinary experiences, or tastings of wines and tequilas, as well as having small shops for and what is necessary in the holidays, together with the best service and attention of your staff.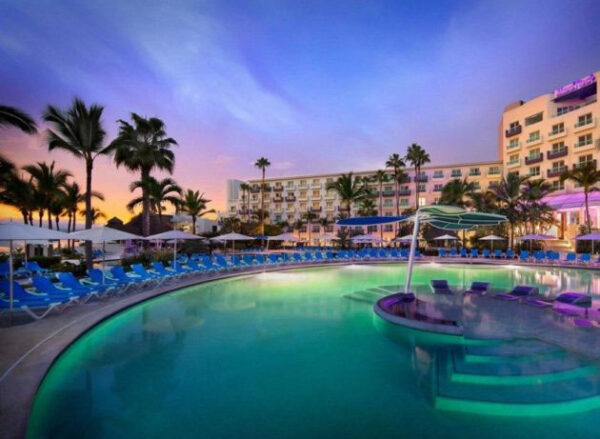 Best Place to Stay in Puerto Vallarta Mexico on The Beach
This tourist destination is beach, so the greatest attraction in coming to visit, is to stay and as close to it, to enjoy these beaches and their beautiful views, as well as  listen to the relaxing Sound of the sea.
This adding the great experience of having a lodging just a few steps from the sand of the sea and its gentle waves.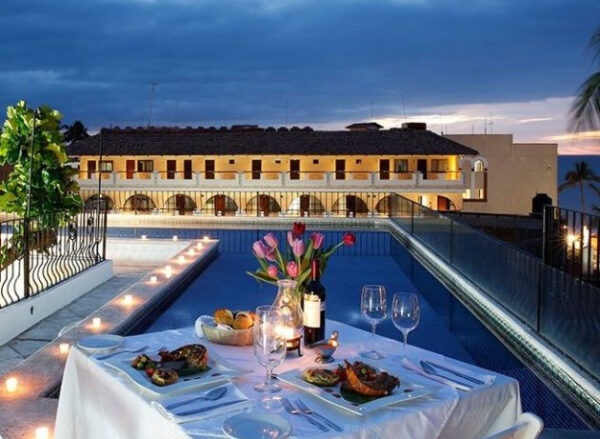 Puerto Vallarta Old Town Hotels
The first tourist developments such as hotels and resorts were located mainly in the small towns that faced the sea, and also offered accommodation in the internal parts of the town, which offered a special flavor as well, but without a doubt the properties facing the sea will always be the best, or the most popular among its visitors.
All Inclusive Hotels and Resorts
With the development of the All Inclusive Resorts, it has become a much more accessible having all kind of all inclusive family Resorts that match any budget and meet great deals anytime or any season year round making this place a prefered destination for the US families as well as for families around the world looking for some adventure in the old Mexico.
Top Places to Stay in Puerto Vallarta All-inclusive are one of the favorite options for visitors, many of these hotels offer great amenities, and an extensive menu of food and beverages, which make an insurmountable attraction for vacationers.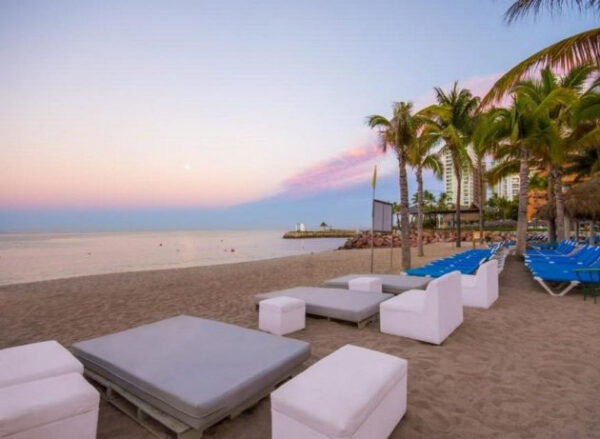 Cheap Accommodations In Puerto Vallarta
Count on all that variety of products and services at the Top Places to Stay in Puerto Vallarta, and be able to enjoy and know first hand all the wonders that this destination could offer, given that the variety of its food and its activities reflected in a large part the rich culture of this country.

Boutique Hotels Puerto Vallarta
Each time this destination counts with more boutique hotels, which offer that unique flavor to its visitors, as they offer special experiences that are not You could find nowhere else.
These can be very cheap but with that special flavor, even some very luxurious and quite expensive but with that touch of exclusivity and luxury so preferred by many travelers.
Puerto Vallarta Bed and Breakfast
A great way of accommodation, which besides including a great place to stay, also you could have a delicious breakfast included in the rate.
Traditionally Bed and Breakfast lodges, are small and intimate places, where you can have a much personalized attention.
Port of Viarta Vacation Rentals
A very long struggle has been felt in the Vacation rental industry against the Hotels and Resorts, mainly because the vast options you can get at a private Villa, House, Apartment or Condo that a Resort just could not match, so there is an option for any person, the limit and choice is yours.
If you browse enough, you´ll find that are many of hotels located near, close, or in the middle of the main areas, or let's say, in the downtown area of every city.
Generally it is easier to get better deals in this kind of Town Accommodation mainly for the lack of space that a major Resort development offer, so do not expect to find a Golf Course in the main square.
But you will be surprised for some golf courses in a walking distance.
Beachfront Rentals
Tourism in Mexico is growing in a steady fashion year after year, making a preferred worldwide destination hungry for some Vacations at the Beach… a beautiful beach.
Hollywood loves Vallarta, in case you were wondering, there are a growing number of accommodations or improving the oldest places, you can find very Exclusive Hotels and Resorts, famous Hollywood actors, and Artists often prefer it as a quick getaway, to host incredible parties, weddings, or just to have a relaxing off the scenery.
Some of them love it so much, they get a permanent spot. In your next visit to PV, look for some luxury vacations lodging deals in some of the best all inclusive spa hotels on the beach, some so cheap you will be surprised, even in an all inclusive vacation package with airfare even in some Golf Resort.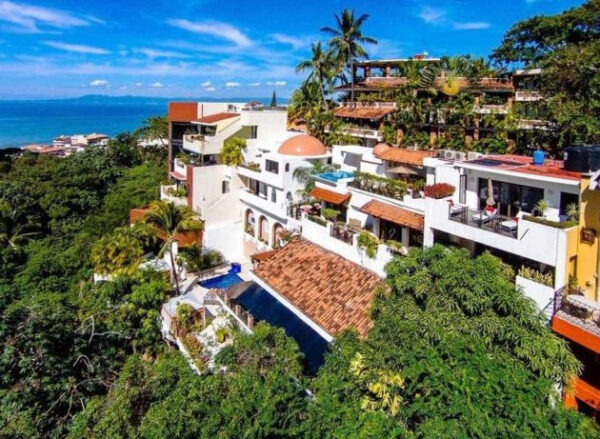 Gay Hotels Puerto Vallarta
Puerto Vallarta is known for being one of the most friendly tourist destinations in Mexico with the community LGBT, for many years.
Making it one of the favorite destinations, and counting on your preference a favorite destination which is favored with your visit year after year.
Thanks to this, a great variety has emerged accommodation with a peculiar touch that makes them unique and vibrant.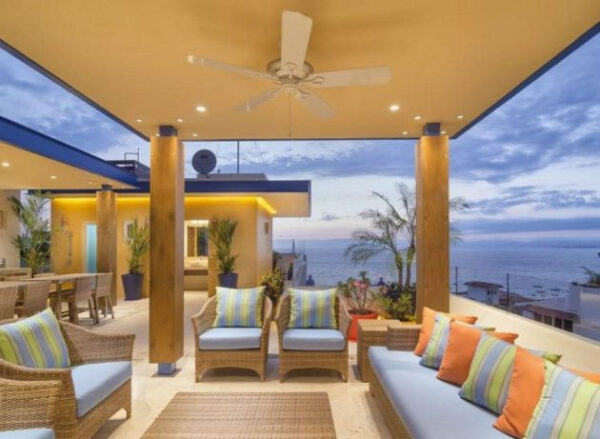 New Hotels in Puerto Vallarta Mexico
This destination has been constantly growing, or renewing itself to be at the forefront everyday with other tourist destinations of the same level or greater worldwide.
New hotels and accommodations appear every year and join the Top Places to Stay in Puerto Vallarta, so here we list those new places, which are a great experience to experience in this destination, to know their new proposals, and new Vision offered to this destination of the Mexican Pacific.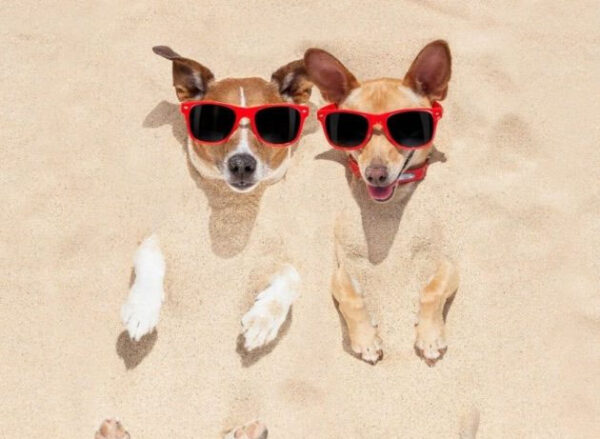 Pet Friendly Puerto Vallarta Hotels
Many accommodations in this Top Hotels in Puerto Vallarta destination know how important that special companion is for you, what your pet is, and what is part of your family.
Since that is so important to you, there are currently hotels that are pet-friendly, which are custom-made and special services for them, and there are also hotels that strive to try to welcome you, but given various restrictions or company policies, must apply certain restrictions for pets.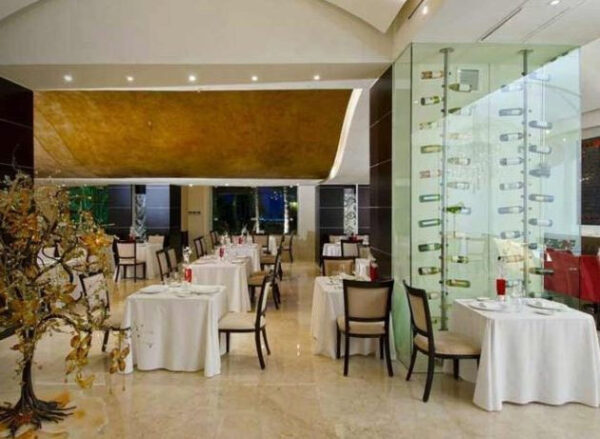 Puerto Vallarta 5 Star Hotels
This destination has evolved from offering accommodation services in small hotels,  traditional lodgings, generally cared for by families or owners, to being a world-class destination, offering Top Hotels in Puerto Vallarta with a wide range hotels and of luxury resorts, with categories ranging from 5 stars,  Gran Turismo,  4 and 5 diamonds, and many other categories and special recognitions that would not fall within those mentioned, but are far above those.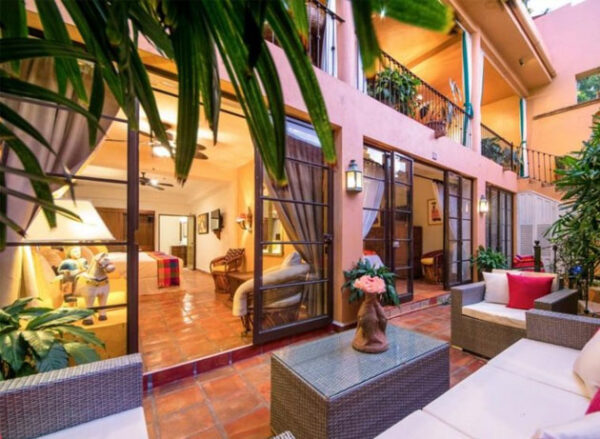 Best Area to Stay in Puerto Vallarta
No doubt, decide which part of Puerto Vallarta is right for you, since this destination is quite large and includes two large areas that would be Bahía de Banderas  and Riviera Nayarit.
Many of the favorite places and traditional, ranging from staying in Downtown Puerto Vallarta, and the romantic area of Puerto Vallarta that is part of the charm of the old town and still retains its traditional flavor, which was the main attraction that attracted thousands of visitors making what is this destination today.
You will find Top Hotels in Puerto Vallarta from mismaloya, through the center of Puerto Vallarta and its hotel zone, to Nuevo Vallarta on the Riviera Nayarit side, passing through Punta de Mita, beyond Sayulita, San Pancho, Rincón de Guayabitos, Lo de Marcos and many more locations that offer good accommodations facing the sea.
Mayan Sea Garden

Now Amber Puerto Vallarta
Hotels near Puerto Vallarta Mexico