Sayulita Riviera Nayarit Mexico Travel Guide
Meet Sayulita Nayarit Mexico one of the most popular spots in this resort destination, where the charm of an old time traditional village is the main attraction.
Find Where is Sayulita Mexico Located and how to get to this town loved by many regular travelers that love to come year after year, and what is the best time to visit  one of the favorite place for the first timers, here you will find everything from to have a great relaxing time with some exciting activities.
Find here the best accommodations for your visit to this side of the Riviera Nayarit, there is a wide variety of hotels and holiday rentals in front of the beach, and there are for all kinds of tastes and preferences.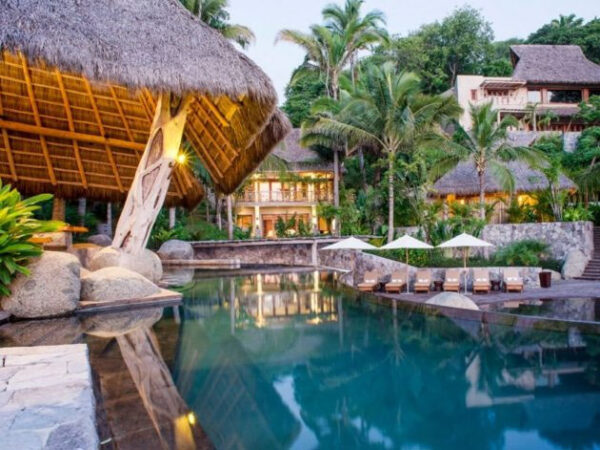 No doubt the options to stay in Sayulita Puerto Vallarta are very varied, the town is very small and maybe that is a limitation due to the large number of visitors that are received year after year, there is also the option in this case, to stay near town, there are nearby communities in which one can find accommodation, being still very convenient to get to visit this popular place.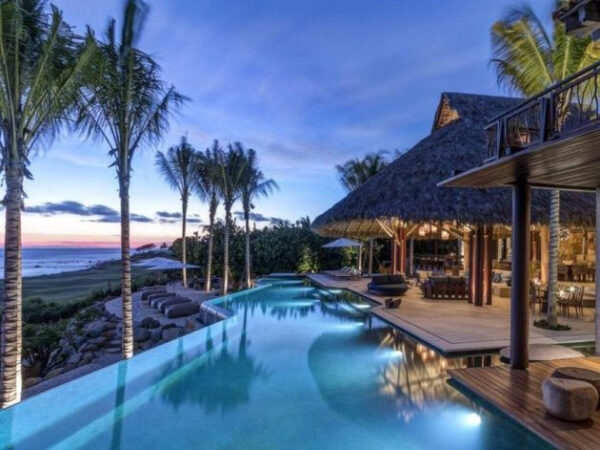 Best Places to Stay in Sayulita Mexico

In this little town you will find places to stay from small boutique hotels, small Bed and breakfast and hostels, even luxury hotels, plus you will find bungalows, cabins, condos and apartments, for holiday rentals, even those who like to experience contact with nature and adventure, and camping directly on the beach.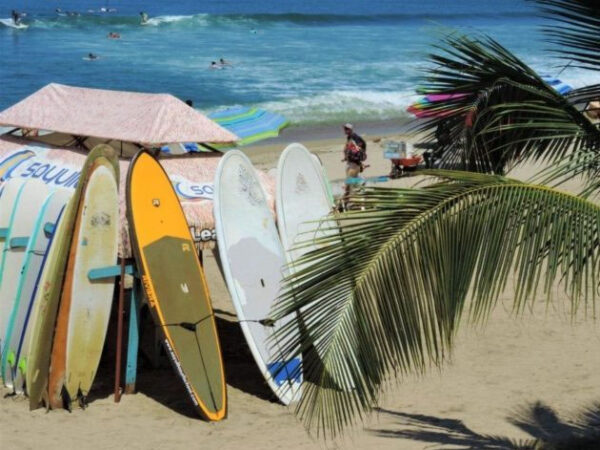 What to do and see

Many visitors come to this place for the first time in search of different activities to do in this Pueblito, mainly attracted by the curiosity of the attraction of its beach, which is perfect for the best activity, and that has given its popularity over the years, which is surfing.
Little by little this place has been populated by visitors who arrived on vacation, and they were the ideal place to live according to their passion to surf the waves in this paradisiacal place of the Riviera Nayarit.
Besides enjoying its beautiful beaches and surfing its waves, many visitors come to spend the day with the sole intention of trying their food and drinks, a very popular activity here is to visit or restaurants and bars in search of the best traditional dishes of Mexican food, with this taste of beach and sea.
Late at night, the small bars come to life, and give way to a vibrant nightlife to the rhythm of music and exotic drinks and beers served in their bars.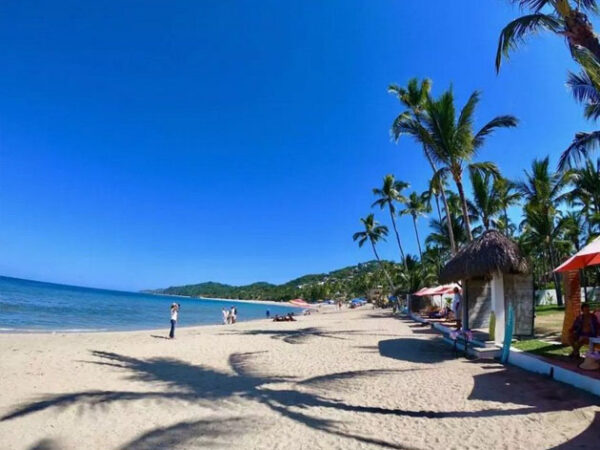 Attractions
There are many activities related to the sea, besides having a lot of vegetation and some hills that make it perfect for various activities such as fishing, snorkeling, and walking and exploring through its trails and zipline tours, through the jungle with beautiful views framed in beautiful scenery.
If you are staying in the center of Puerto Vallarta, or Nuevo Vallarta, or any other nearby destination, there are agencies that are responsible for organizing day trips to this little town from Puerto Vallarta, which can recommend the best options, what to do, where to eat, and where to drink and enjoy that way of this destination a little while.
And you can also have fun in their fun and entertaining beach clubs.
It is also advisable to go shopping, where you will find a wide variety of handicrafts and local products, besides finding everything you need to surf, and spend an excellent day at the beach.
You will find crafts and clothing that will make the perfect gift, or the perfect souvenir of your visit to this destination.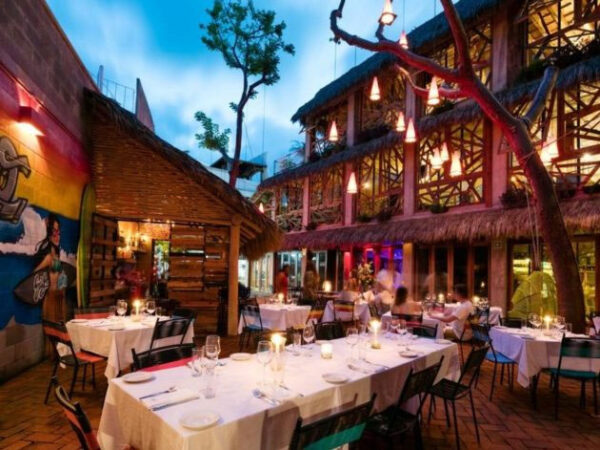 Where is Sayulita Mexico located?
Find exactly Where is Sayulita Mexico Located to Enjoy from great places to stay, nice food and drinks, a lot of things to shop and take a small part of your vacations home.
What state is in?
It is located in the state of Nayarit by the famous Riviera Nayarit, facing the Mexican Pacific , and is part of the destination called Puerto Vallarta, which is one of the most important tourist destinations in Mexico.
What time is it in?
It has the Central Daylight Time / Central Daylight Saving Time
How far is Puerto Vallarta from Sayulita?
It is 40.4 km  or 25 Miles away, about a little more than a hour driving
How far is Punta Mita from Sayulita?
It is 17.7 km  or 11 Miles away, about a little more than a half an hour driving
How to get to Sayulita
Now that you know Where is this town, it is about a few miles or kilometers from Puerto Vallarta, Nuevo Vallarta, Bucerias, Punta de Mita, San Pancho, and some other important towns in the region.
It is easy to reach by any means of transport, it is only a short distance and it is quite convenient to spend a good holiday, or to know, near the main city of Puerto Vallarta.
How to get to Sayulita from Puerto Vallarta
The city of Puerto Vallarta, is the main place of this beach destination and the Closest Airport is located here, here you may find what airport do you fly into.
Many visitors take it as a starting point to explore the area, whether they stay Beyond Puerto Vallarta or closer to this town.
Getting from Puerto Vallarta to Sayulita are a few nice options, here the most recommended:
Taxi The easiest way to transport, the driver can leave them directly in the town, in the right place and indicated, and even recommend some of the things to do try And where to go in the place.
Car rental  having your own transportation is a great advantage, and comfort, the agency can give you directions and like how to get there, and like the taxi recommend some activities and things that should not be missed in your visit.
Public transport It will take you from Puerto Vallarta in a comfortable and safe way,
be sure to check the round trip schedules so you can schedule a good day at the beach, it's cheap and efficient.
Shuttle from Puerto Vallarta from several important parts of Puerto Vallarta, to the town, where they can arrange the
return time, and they could even get a good package since it is part of the day trips.
We recommend them As soon as they are visiting Puerto Vallarta, about the different services they offer, or the ways to transport them, since they can change without notice, both in time, route and prices.
What airport do you fly into for Sayulita Mexico?
To get directly to this location, by plane, the Closest Airport is the one in Puerto Vallarta.
Is an international airport which serves as a port for many airlines with connections in the main cities of the United States and Mexico, as well as a large number of connections with other regions of the country.
What Airport is closest to Sayulita Mexico
To find What airport do you fly into you shoul arrive to the airport in Puerto Vallarta, you can arrange the rental of a car, a shuttle to the town, take a taxi, or simply use public transport.
The next largest airport is the one in the city of Tepic, just a few hours, and the next in size is the one in the city of Guadalajara, which offers a direct connection to the airport. of Puerto Vallarta.
Best Time to Visit Sayulita Riviera Nayarit
Any time of the year, it is perfect to visit, it is the popular place of the inhabitants of Guadalajara, and no matter the season, they like to visit this destination.
It may be very hot during the summer and it rains a little, but it is still nice to visit and get to know it, and enjoy it in all its facets and seasons of the year.
Puerto Vallarta Sayulita Nayarit Mexico Map