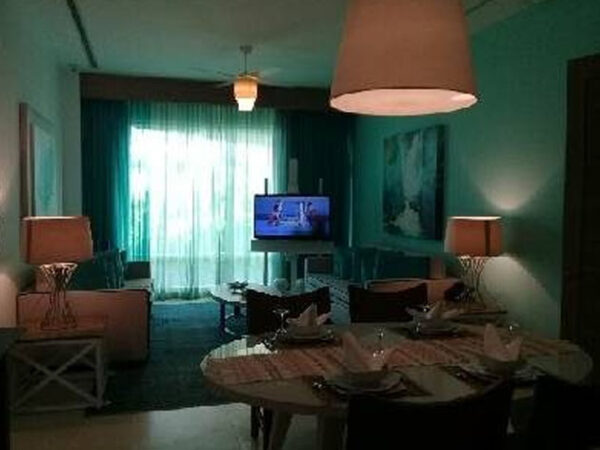 Resorts
The Grand Cascades Nuevo Vallarta
|
The Cascades Nuevo Vallarta a Celebrate Park Resort Hotel

The Grand Cascades Nuevo Vallarta coming along with the upcoming, one in the world new attraction, The Parks, The brand new amusement park, will come along with great lodge options within, Vidanta Nuevo Vallarta Residence Club, developed as a private accommodation for members, will be a great benefit to their personal account with this company.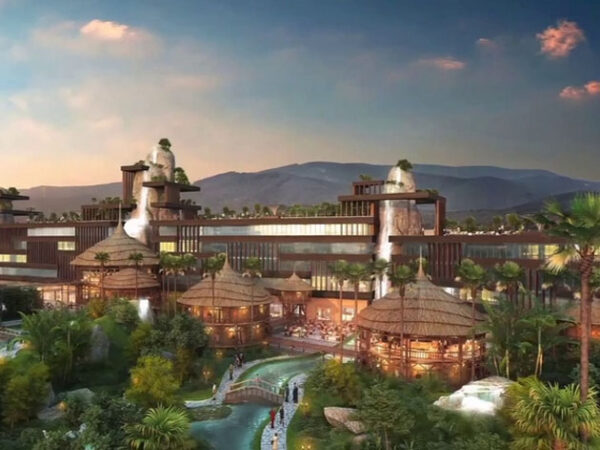 As well as its name suggest, this accommodation  it is nicely designed and furnished with some water and wood like colors in mind, a perfect accommodation for families looking to have some great time away from home, having a nice and comfortable place to rest and stay a few steps from the fun and entertainment, to continue enjoying of the great amenities this places have to offer.
At the Cascades Nuevo Vallarta a Celebrate Park Resort Hotel allowing to stay up to 8 persons, a whole family could fit in it, equipped with all you need, from full kitchen, fridge, dishes and more.
To enjoy more than a visit to this park, some great vacations, in Nuevo Vallarta In the Riviera Nayarit, next to the traditional and world famous, Puerto Vallarta Mexico.
The Grand Cascades Nuevo Vallarta a Celebrate Park Resort Hotel

The Cascades Nuevo Vallarta  all offered by the Vidanta group in its main destinations, will be in its equivalence what would be the Mayan Palace in terms of the level of luxury, space, comfort, cost and amenities in addition to those who already have that destination, both Puerto Vallarta and Nuevo Vallarta will be the new addition but now with a small change adapted to what is the new The Parks Nuevo Vallarta Vidanta.
that as you already know is going to be the cherry on the cake in question to entertainment attractions in this tourist destination, and as is customary and has been reflected in its other destinations, the new trend of this company to reflect or approach their accommodations blend perfectly with their amenities give way to new and better options, all this with a touch of quality characteristic of this company .
The Grand Cascades Entertainment Collection  at Vidanta Nuevo Vallarta
This will be a great update starting with their members vacations, in which a new portfolio has been created with its entertainment division for the Puerto Vallarta and Nuevo Vallarta región.
Said benefits will be mainly benefited those members who have a membership in this private Residential Club, so they will be the first and the main ones to start enjoying this new concept that together with the park that is currently being built and is soon to conclude will have the opportunity to start enjoying it, and as is already a tradition in vidanta group, to provide more and better experiences to its members and their families of members will soon become a reality.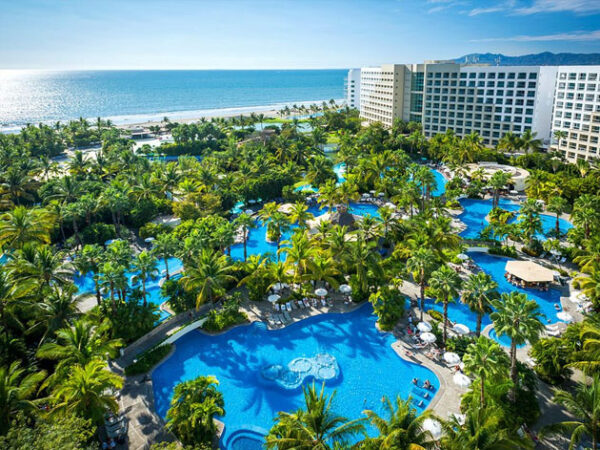 Vidanta Nuevo Vallarta Grand Mayan
Years ago no one could have imagined that Al began as a Resort destination in Puerto Vallarta, to subsequently grow and have another spring in another area, now on the side of the Riviera Nayarit What is Nuevo Vallarta, could have imagined the magnitude of a project like this.
Now in addition to what is already known in Nuevo Vallarta, how is Mayan Palace, Grand Mayan, Grand Bliss and Grand Luxxe, without neglecting its great golf courses.
now a new entertainment option with the theme park of the cirque du Soleil, and next to this three new magnificent resorts such as the Cascades Nuevo Vallarta a Celebrate Park Resort Hote lthat will be part of this great family.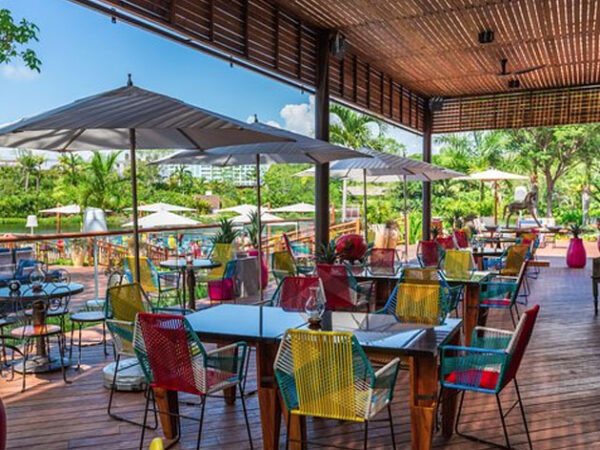 Grand Mayan Nuevo Vallarta Meal Plan
It will be interesting to wait to see what were the options for the current breakfast and lunch plan that is currently now mixed with the exotic proposals of a new theme park, because like everything, it should be a perfect mix , between your part of entertainment, your meals, and your accommodation.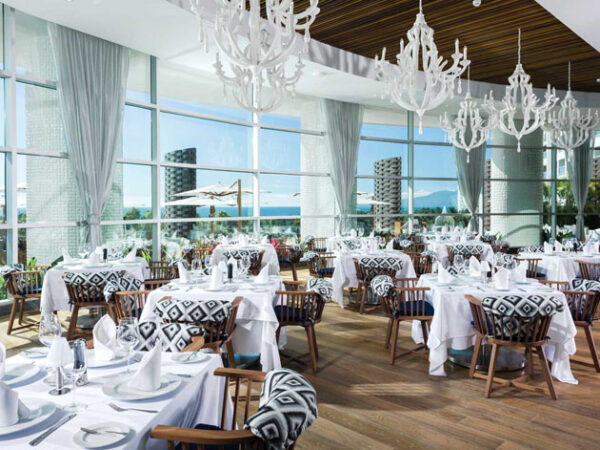 The Grand Cascades Nuevo Vallarta Restaurants
We have no idea yet, about the new restaurants and bars that are going to be created in conjunction with the theme park, but we are sure that it will be a great pleasant surprise, which will complement making it an even more pleasant experience to visit This destination and especially stay in a Resort such as the Grand Mayan in Nuevo Vallarta.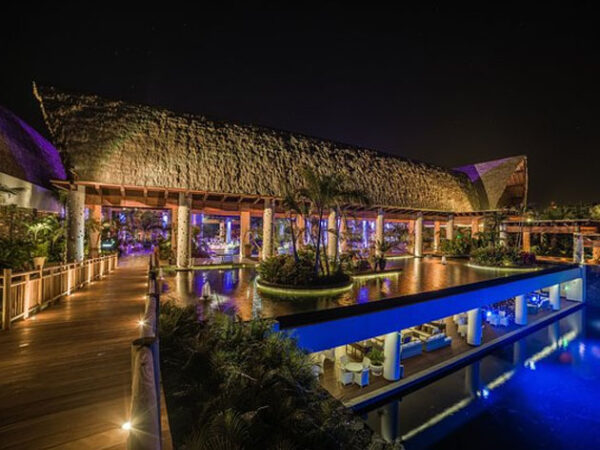 Vidanta Santuario Nuevo Vallarta
In the meantime one can continue to enjoy their vacations in that destination in this peculiar place called the Santuario in which one can be in contact with artists performing works of art while they are creating them, and also enjoy a great variety of handcrafted cocktails along with the best music that one of the best DJs could schedule to make a memorable stay.
This place comes alive and in the mornings starting with coffees, juices, smoothies, and various desserts to relax from the morning and start a day with the right foot and ready for all kinds of activities and experiences for this day.
And at night one can enjoy the best drinks courtesy of the best mixologists of the Sanctuary enjoying the afternoon or evening in their terraces listening to music at a higher rate Until the closing arrived and we are ready to rest for a new day adventures in this destination.
The Grand Cascades Nuevo Vallarta Entertainment
Undoubtedly this new concept of entertainment that will give life in Nuevo Vallarta, will change or better will improve the way that visitors come to relax and entertain themselves in Puerto Vallarta.
As always the main things to do and activities, which will always be the favorites and that one should not miss will be before the tour to know the tequila in vidanta, as well as relax in the spa Brio what has been a quality standard in the which is in all your destinations when you do not want to take time for yourself and relax.
Grocery stores near the Cascades Nuevo Vallarta

Something that will be interesting to observe, will be all the amount of new products, and memories that one can get in their stores inside the resort and outside it, now with the theme of the Parks Nuevo Vallarta.
Each time there is less time for thousands of families as well as yours, begin to enjoy and learn about this new concept in entertainment in Nuevo Vallarta, either staying in Grand Cascades, or in Kingdom of the sun, or the Kingdom of the Stars.
The Grand Cascades Nuevo Vallarta at the Parks Map